Recipes | Apr 26, 2020
Cheesy Sausage Bread recipe
Cheese, sausages and bread is a perfect combination for different food items loved by all age groups around the world. This particular recipe Cheesy Sausage Bread uses the most popular pizza dough, sausages, processed cheese and mozzarella cheese. Cheesy Sausage Bread is perfect for breakfast, dinner or evening snack.
Ingredients
For dough
3.5 cups of flour (break flour is preferred)
1 tsp sugar
1.5 tsp salt
2 tbsp olive oil or vegetable oil
1.3 cups of lukewarm water
2 tsp yest
Bread flour makes the Cheesy Sausage Bread crispy, but if bread flour is not available it is okay to use all purpose flour.
For filling
Sausages
Grated processed cheese
Grated mozzarella cheese
Pre-heat the oven at 200°C or 400°F.
Making the dough
Mix well yeast, lukewarm water and sugar in a clean bowl. Then leave the mixture for 15 minutes. Bubble reaction from the mixture is a sign of yeast, sugar reaction.
Mix flour, salt and oil (olive oil or vegetable oil) in another clean bowl.
After 15 minutes, mix both the mixtures well into one. If a stand mixture is used, the process should take around 12-15 minutes to properly mix. If the hand is used please mix well for around 17-19 minutes. The dough is usually little sticky in the beginning and there is no need to add anything else to make it not sticky. As the ingredients gets mixed well, the dough would become less sticky over time.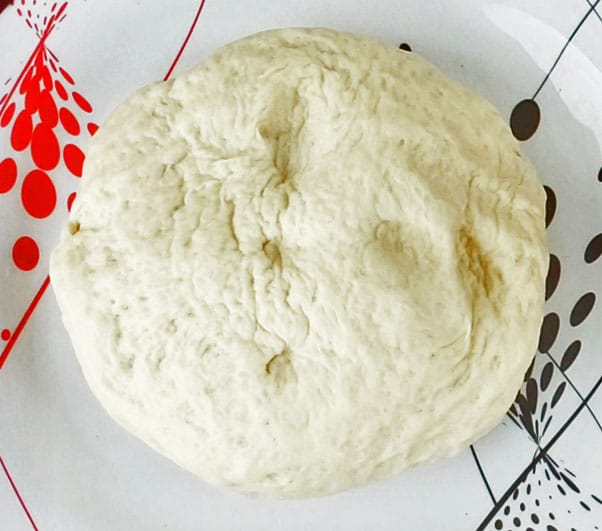 Apply a thin oil layer in a new clean bowl and put the dough in it, then apply oil on the dough surface. Next let the dough rise closed with a kitchen towel for 3 hours.
Prepare Cheesy Sausage Bread pieces
Punch down the dough after 3 hours and cut it into 10 pieces. Roll, stretch and make 10 long pieces of identical dough slices.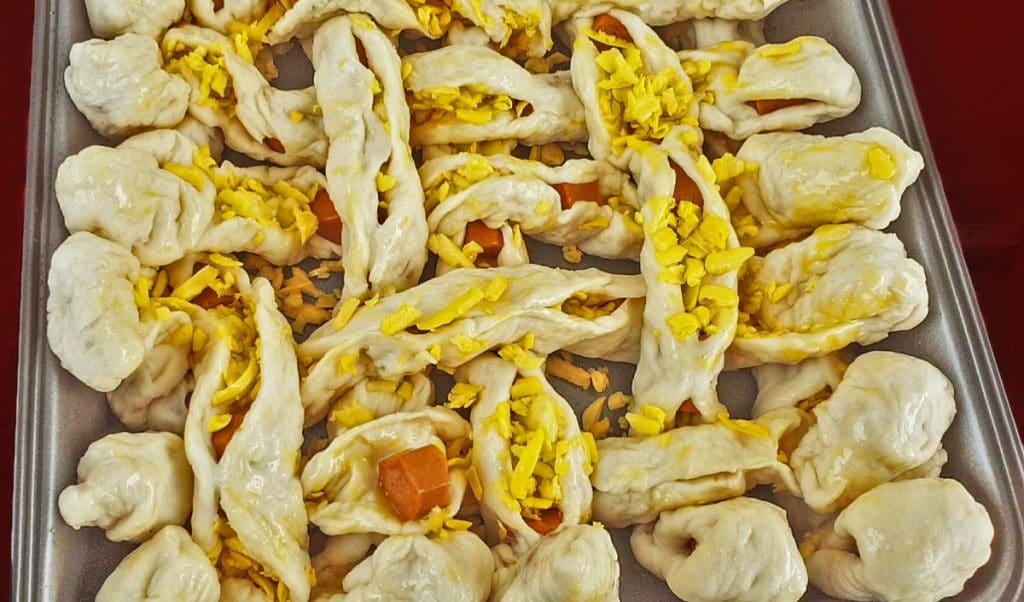 Add sausage pieces in to dough slices in such a way they are covered by the dough while keeping the space for cheese. Then add the mixture of mozzarella cheese and processed cheese between the sausage pieces and cover sausages and cheese with the dough. Make 10 such stuffed dough pieces.
Bake the Cheesy Sausage Bread
Apply a thin layer of oil in the baking tray and arrange the Cheesy Sausage Bread rolls 5 by 5 side by side in the tray going though one another making a mesh. Then apply egg yolk on the Cheesy Sausage Bread mesh surface. Next cover the tray with a kitchen towel and leave for 1 hour.
After 1 hour, bake Cheesy Sausage Bread at 200°C or 400°F for 30 minutes in the pre-heated oven.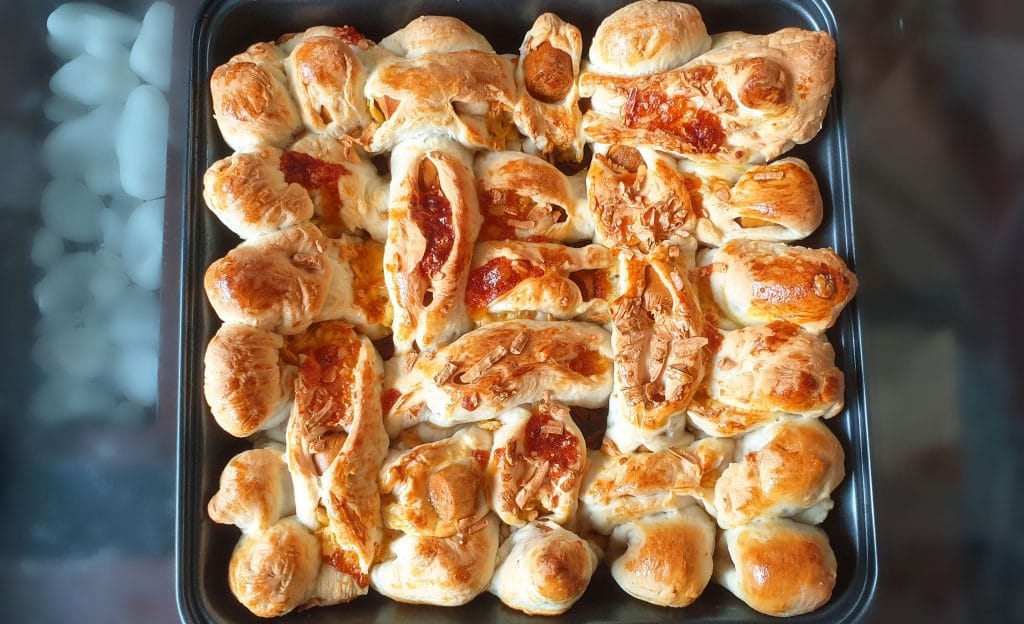 After 30 minutes, delicious Cheesy Sausage Bread is ready to be served. Apply butter and serve with Tomato source for garnishing and added taste.